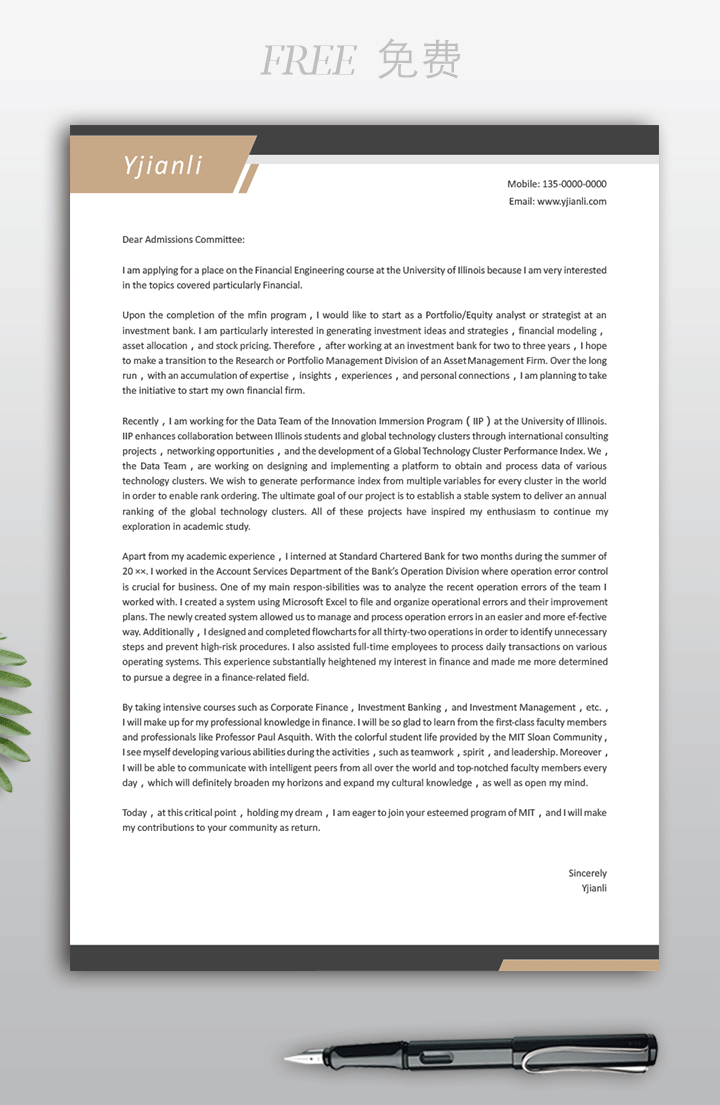 英文求职信范文模板下载地址:
英文求职信模板范文正文内容:
Dear Admissions Committee:
I am applying for a place on the Financial Engineering course at the University of Illinois because I am very interested in the topics covered particularly Financial.
Upon the completion of the mfin program,I would like to start as a Portfolio/Equity analyst or strategist at an investment bank. I am particularly interested in generating investment ideas and strategies,financial modeling,asset allocation,and stock pricing. Therefore,after working at an investment bank for two to three years,I hope to make a transition to the Research or Portfolio Management Division of an Asset Management Firm. Over the long run,with an accumulation of expertise,insights,experiences,and personal connections,I am planning to take the initiative to start my own financial firm.
Recently,I am working for the Data Team of the Innovation Immersion Program(IIP)at the University of Illinois. IIP enhances collaboration between Illinois students and global technology clusters through international consulting projects,networking opportunities,and the development of a Global Technology Cluster Performance Index. We,the Data Team,are working on designing and implementing a platform to obtain and process data of various technology clusters. We wish to generate performance index from multiple variables for every cluster in the world in order to enable rank ordering. The ultimate goal of our project is to establish a stable system to deliver an annual ranking of the global technology clusters. All of these projects have inspired my enthusiasm to continue my exploration in academic study.
Apart from my academic experience,I interned at Standard Chartered Bank for two months during the summer of 20 ××. I worked in the Account Services Department of the Bank's Operation Division where operation error control is crucial for business. One of my main respon-sibilities was to analyze the recent operation errors of the team I worked with. I created a system using Microsoft Excel to file and organize operational errors and their improvement plans. The newly created system allowed us to manage and process operation errors in an easier and more ef-fective way. Additionally,I designed and completed flowcharts for all thirty-two operations in order to identify unnecessary steps and prevent high-risk procedures. I also assisted full-time employees to process daily transactions on various operating systems. This experience substantially heightened my interest in finance and made me more determined to pursue a degree in a finance-related field.
By taking intensive courses such as Corporate Finance,Investment Banking,and Investment Management,etc.,I will make up for my professional knowledge in finance. I will be so glad to learn from the first-class faculty members and professionals like Professor Paul Asquith. With the colorful student life provided by the MIT Sloan Community,I see myself developing various abilities during the activities,such as teamwork,spirit,and leadership. Moreover,I will be able to communicate with intelligent peers from all over the world and top-notched faculty members every day,which will definitely broaden my horizons and expand my cultural knowledge,as well as open my mind.
Today,at this critical point,holding my dream,I am eager to join your esteemed program of MIT,and I will make my contributions to your community as return.
Sincerely
Yjianli
其它英文求职信范文模板下载: