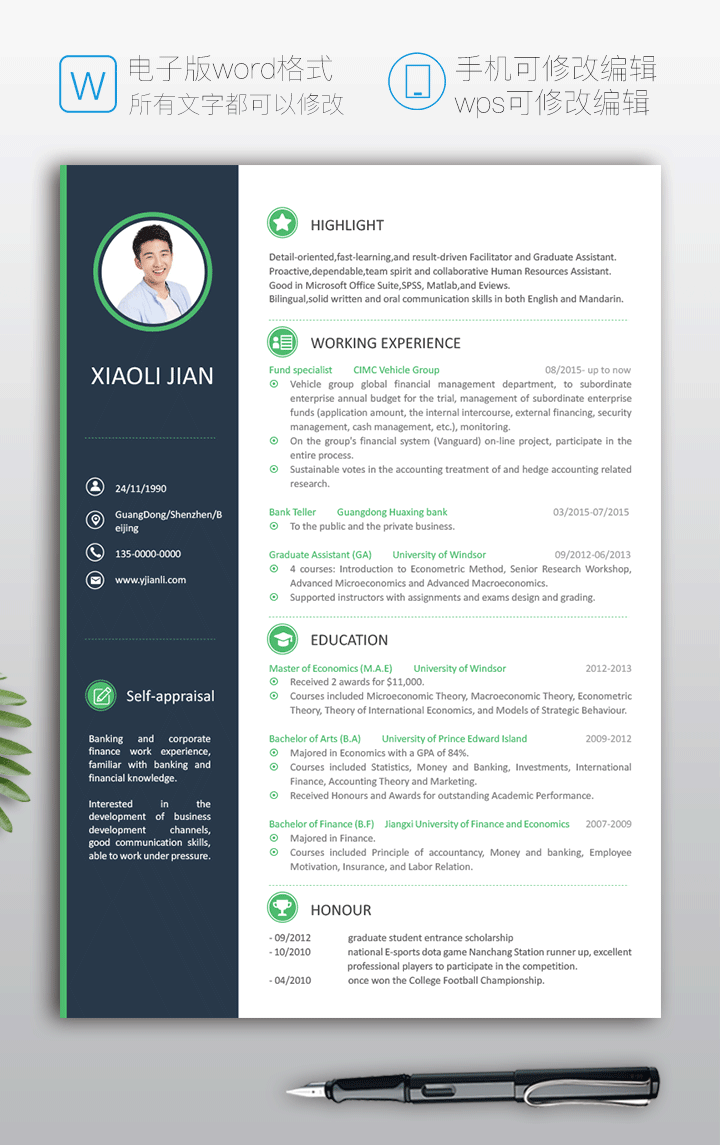 英文简历模板范文下载地址:
*不能购买或支付失败,请联系微信客服:yjianli 直接发送。

英文简历模板范文内容:
HIGHLIGHT
Detail-oriented,fast-learning,and result-driven Facilitator and Graduate Assistant.
Proactive,dependable,team spirit and collaborative Human Resources Assistant.
Good in Microsoft Office Suite,SPSS, Matlab,and Eviews.
Bilingual,solid written and oral communication skills in both English and Mandarin.
WORKING EXPERIENCE
Fund specialist CIMC Vehicle Group         08/2015- up to now
Vehicle group global financial management department, to subordinate enterprise annual budget for the trial, management of subordinate enterprise funds (application amount, the internal intercourse, external financing, security management, cash management, etc.), monitoring.
On the group's financial system (Vanguard) on-line project, participate in the entire process.
Sustainable votes in the accounting treatment of and hedge accounting related research.
Bank Teller Guangdong Huaxing bank         03/2015-07/2015
To the public and the private business.
Graduate Assistant (GA) University of Windsor         09/2012-06/2013
4 courses: Introduction to Econometric Method, Senior Research Workshop, Advanced Microeconomics and Advanced Macroeconomics.
Supported instructors with assignments and exams design and grading.
EDUCATION
Master of Economics (M.A.E) University of Windsor         2012-2013
Received 2 awards for $11,000.
Courses included Microeconomic Theory, Macroeconomic Theory, Econometric Theory, Theory of International Economics, and Models of Strategic Behaviour.
Bachelor of Arts (B.A) University of Prince Edward Island 2009-2012
Majored in Economics with a GPA of 84%.
Courses included Statistics, Money and Banking, Investments, International Finance, Accounting Theory and Marketing.
Received Honours and Awards for outstanding Academic Performance.
Bachelor of Finance (B.F) Jiangxi University of Finance and Economics 2007-2009
Majored in Finance.
Courses included Principle of accountancy, Money and banking, Employee Motivation, Insurance, and Labor Relation.
HONOUR
– 09/2012     graduate student entrance scholarship
– 10/2010     national E-sports dota game Nanchang Station runner up, excellent professional players to participate in the competition.
– 04/2010     once won the College Football Championship.
其它英文简历模板范文: