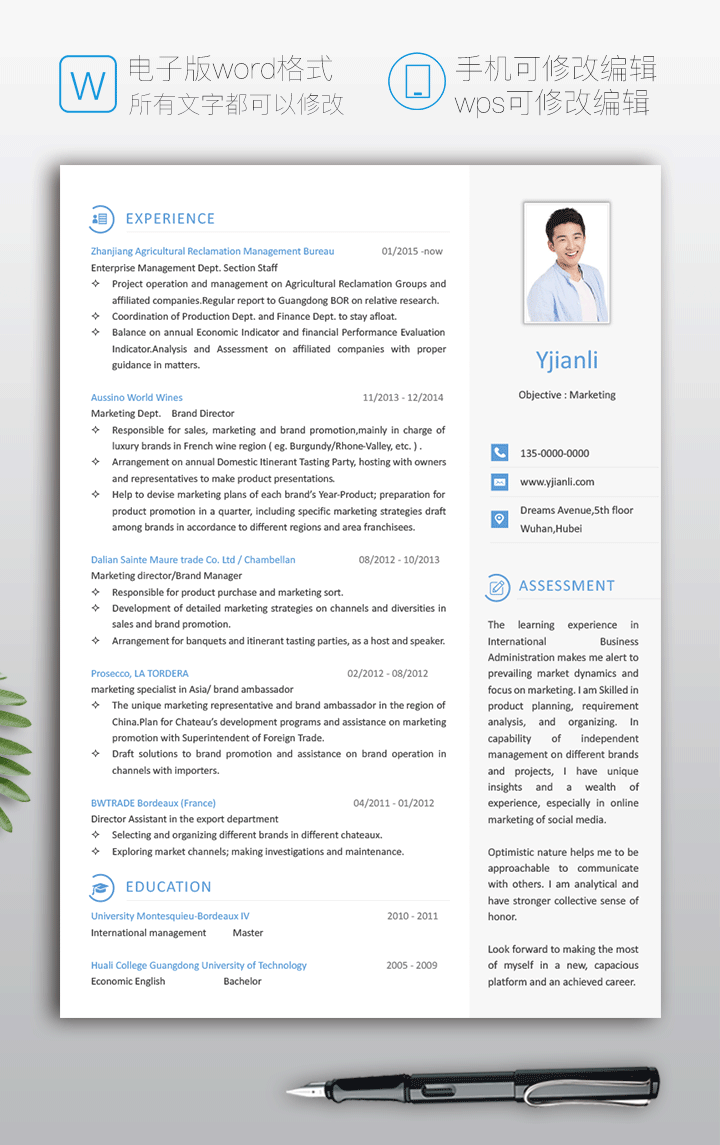 下载地址:
*不能购买或支付失败,请联系微信客服:yjianli2022

英文简历模板word电子版范文内容:
Name:Yjianli
Objective: Marketing
EXPERIENCE
Zhanjiang Agricultural Reclamation Management Bureau
01/2015 -now
Enterprise Management Dept. Section Staff
Project operation and management on Agricultural Reclamation Groups and affiliated companies.Regular report to Guangdong BOR on relative research.
Coordination of Production Dept. and Finance Dept. to stay afloat.
Balance on annual Economic Indicator and financial Performance Evaluation Indicator.Analysis and Assessment on affiliated companies with proper guidance in matters.
Aussino World Wines
11/2013 – 12/2014
Marketing Dept. Brand Director
Responsible for sales, marketing and brand promotion,mainly in charge of luxury brands in French wine region ( eg. Burgundy/Rhone-Valley, etc. ) .
Arrangement on annual Domestic Itinerant Tasting Party, hosting with owners and representatives to make product presentations.
Help to devise marketing plans of each brand's Year-Product; preparation for product promotion in a quarter, including specific marketing strategies draft among brands in accordance to different regions and area franchisees.
Dalian Sainte Maure trade Co. Ltd / Chambellan
08/2012 – 10/2013
Marketing director/Brand Manager
Responsible for product purchase and marketing sort.
Development of detailed marketing strategies on channels and diversities in sales and brand promotion.
Arrangement for banquets and itinerant tasting parties, as a host and speaker.
Prosecco, LA TORDERA
02/2012 – 08/2012
marketing specialist in Asia/ brand ambassador
The unique marketing representative and brand ambassador in the region of China.Plan for Chateau's development programs and assistance on marketing promotion with Superintendent of Foreign Trade.
Draft solutions to brand promotion and assistance on brand operation in channels with importers.
BWTRADE Bordeaux (France)
04/2011 – 01/2012
Director Assistant in the export department
Selecting and organizing different brands in different chateaux.
Exploring market channels; making investigations and maintenance.
EDUCATION
University Montesquieu-Bordeaux IV
2010 – 2011
International management Master
Huali College Guangdong University of Technology
2005 – 2009
Economic English Bachelor
ASSESSMENT
The learning experience in International Business Administration makes me alert to prevailing market dynamics and focus on marketing. I am Skilled in product planning, requirement analysis, and organizing. In capability of independent management on different brands and projects, I have unique insights and a wealth of experience, especially in online marketing of social media.
Optimistic nature helps me to be approachable to communicate with others. I am analytical and have stronger collective sense of honor.
Look forward to making the most of myself in a new, capacious platform and an achieved career.
其它英文简历模板word电子版下载: